Living Artist Society.com is an online destination dedicated to discovery of live performing, visual and literary arts events and the artists who create them. Comprised of a community of artists of all disciplines, we are committed to increasing opportunities for artistic experiences in everyday living.
Many of us have spent a lifetime honing our craft to create something authentic, unique, and inspirational.
We don't just want to connect with you, our audience. We want to connect you to something greater than all of us.
While we may tour or exhibit all over the world, we also live, work and perform right in your own backyard.
Many of us also teach and are active contributors to the health and well-being of our local communities.

We insert the arts into under-utilized spaces and unexpected places across the nation.
Our platform exists to help audiences and artists make more and deeper connections.
Kathryn Satoh and Elizabeth Newkirk
Bow & Hammer, Chicago
Clara Osowski and Jeremy Walker
Haunted Blue
"In a cacophonous world, we often don't want to see and hear more than we already do; rather we want better filters so we see and hear less or just exactly what we want" - David S. Rose
National studies show that we value the arts highly.
We heard from you, people passionate for live events, that you spend hours searching online, standing in discount ticket queues, and traveling out of your way for a meaningful arts experience.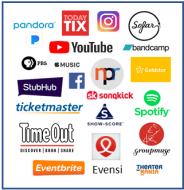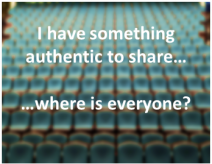 It's easy to find out what's going on in the mainstream, but worthwhile nuggets are buried by what the marketing engines want us to consume.
You told us about nearly 50 apps, sites and other media that come into play when searching for relevant events.
Finding something is serendipitous. Often you give up and don't go at all.
Meanwhile, talented artists are available in abundance, and are going undiscovered for lack of a means to make themselves visible.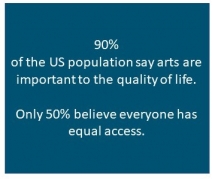 We seek to close these gaps using our platform as the bridge.
Mission
Living Artist Society's mission is to bring performing, visual, and literary arts experiences to a wider audience while helping artists build sustainable careers.
Vision
We aspire to create a grass-roots ecosystem where artists and arts seekers can connect in meaningful and experiential ways

We promote arts events that embody our shared beliefs and values

We carry out our mission in as many ways as there are peoples and perspectives

We seek positive impact on the world be it through the small moments of everyday living or through the hearts of those who may influence public policy

We are financially self-sustained through the pooled resources of our membership

We serve our mission using the same operational methods of for-profit companies
"The arts, it has been said, cannot change the world, but they may change human beings, who might change the world." - Maxine Greene
The arts open our eyes and move our hearts to experience a world beyond our physical place or time

The arts preserve our cultural memory to illuminate the present and re-imagine a brighter future

The arts celebrate cultural diversity and promote spiritual unity

The arts cross time, place, race and gender

The arts bring light, joy, and beauty into our everyday existence

The arts improve the quality of life in our communities

The arts as part of education help strengthen generations to come
"Only people who have tried at some arts endeavor know this to be true. So, the challenge is to convert the know-nots and cultivate those in the know." - Bill Evans, Jazz Pianist
© 2019 Living Artist Analytics, LLC